The information on this page references our previous Summer Program. It has been left here for your reference. We will replace this with our upcoming Summer Program information as soon as it is available.
Once your Princess enters the imperial gates of our studio, she will be delighted with royal dance lessons in ballet, tap and tumbling. Our castle artisans will guide your princess through fun crafts, and our princess tea party is sure to be a hit! Our castle cooks will provide a mid-morning snack each day. Finally, the princesses will enthrall you with an informal performance on the last day of camp.
* Children must be age 3 by January 1, 2015 for our June Camp, and age 3 by March 1, 2015 for our August Camp. Children should be comfortable being away from guardian for 2 hours and must be potty trained. Children may attend one or both weeks.
** Children must be age 4 by January 1st, 2015.
Clothing and Hair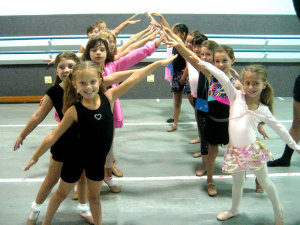 Students may wear any color leotard or biketard.
Students may wear bare legs, footless or convertible tights, or dance shorts. Bring thin socks to wear with your dance shoes, (unless you have convertible tights).
Students should bring ballet or jazz shoes, and tap shoes or any hard soled shoes. (Outgrown last year's shoes? Trying dance for the first time? Check the outgrown shoe exchange in our Ladies Changing Room. If you find a pair of shoes that fit, you may have them.)
Students should wear their hair in pigtails or double buns. No ponytails or single buns, since they get in the way during tumbling.
Students should bring a smock (or large t-shirt) to wear for craft time. (These T-shirts should not be worn for dance.)
Tax Deduction
Many are unaware that federal tax law may allow you to deduct the cost of day care. In some instances our Summer Dance Camps fall under the heading of Day Care. Speak to your accountant. You will need our Federal Tax ID Number, which we will be happy to supply to you.
Due to the high demand for our summer programs, applications will be accepted and processed on a first come, first serve basis in the order in which they are received. No additional registrations can be accepted once the camp fills.
Please contact the studio if you have questions – we'll be happy to answer them.