The information on this page references our previous Summer Program. It has been left here for your reference. We will replace this with our upcoming Summer Program information as soon as it is available.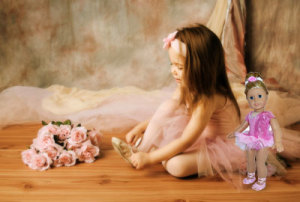 Bring your favorite 18″ Doll (American Girl or a similar doll) and join us as we make wonderful crafts for your doll, play games together, and finish with a Salon Day!
The camp will run Monday thru Friday from 9:30am to noon. This camp will not be as dance oriented as our other summer camps and will instead focus on fun activities and crafts centered around girls and their 18″ dolls.
We are also offering a Combo Option – Doll Camp in the morning from 9:30am-noon, stay for lunch (bring your own bag lunch), then attend Camp Cheertastic from 1:00-4:00pm.
Tax Deduction
Many are unaware that federal tax law may allow you to deduct the cost of day care. In some instances our Summer Dance Camps fall under the heading of Day Care. Speak to your accountant. You will need our Federal Tax ID Number, which we will be happy to supply to you.
Due to the high demand for our summer programs, applications will be accepted and processed on a first come, first serve basis in the order in which they are received. No additional registrations can be accepted once the camp fills.
Please contact the studio if you have questions – we'll be happy to answer them.